Raymond Nel, general manager at Nordland Lighting for the past two years, has been in the electrical industry for the past decade. With an extensive background in electronics, the transition to the electrical industry was easy for Raymond.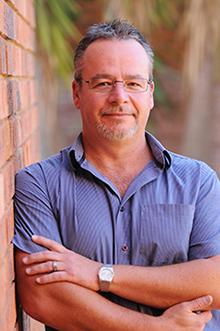 His proven his business acumen coupled with an egalitarian management style encourages his team to take ownership of their responsibilities and inspires loyalty and commitment.
Dynamic and forward-thinking, Raymond is excited about new LED products specifically for hazardous area and the new doors that are being opened as LED technology advances.
Sparks: Where were you educated?
RN: I went to Noordheuwel High School in Krugersdorp and started my technical career at the Krugersdorp Technical College where I qualified in Electronics, Communication Electronics and Electromagnetism.
Sparks: How long have you been involved in the electrical industry?
RN: Most of my career was within the electronics industry but, for the last 10 years, I have been working with electrical engineers and electrical contractors.
Sparks: When and where did you start your career?
RN: I started my apprenticeship as an electronic radio technician with the South African Air Force in 1986 and qualified in 1989.
Sparks: What are the greatest changes you have seen over the years?
RN:  I think the biggest change I've seen is that we experienced a shortage of electricity and this lead to many people becoming very conscious about saving energy. Consequently, over the last five years, we've seen the introduction of LED luminaires to the commercial and industrial markets. While LEDs have been around for some time, never before has so much money and time been spent on developing and retrofitting LED products.
Sparks: What major projects have you worked on and what is your greatest accomplishment?
RN: During 2010 I was the general manager of Lighting Structures and the company was appointed to upgrade the lighting masts on 12 training venues across the country for the Soccer World Cup. We managed to complete all these projects in a very short time with limited resources and in time for the opening of the World Cup.
My biggest accomplishment was to revamp the organisational structure of two merging companies by designing a highly effective business plan for the amalgamation of the different divisions within the companies. This initiative transformed the company from an initial R56-million annual turnover in 2008 to a substantial R195-million by 2010.
Sparks: Who has been your inspiration or have you had a mentor who has influenced your career?
RN: As a youngster, I was given an opportunity in 1993 by Barry Moore, the owner of Gastech Services to be part of the management team in his company. This was the first stepping stone in my transition from an artisan to a manager. Barry taught me so much about managing a business, staff and customers.
Sparks: What, to your mind, is one of the biggest challenges facing the industry at this time?
RN: A big concern is that too many qualified people are leaving South Africa and the education system cannot produce replacements fast enough. Due to low economic growth, the pricing of commodities remains a challenge. Unfortunately, quality is often sacrificed for better pricing.
Sparks: What do you enjoy most about your job?
RN: As manufacturers of hazardous area light fittings, we are continuously developing new products for the industry. The introduction of LEDs into the hazardous environment is very exciting.
We have developed a range of products for the commercial market and, as a traditional explosion-proof light fitting manufacturer, we are now opening new doors and markets with the latest range of products.
Sparks: How do you motivate your staff?
RN: As we spend more time at the office than at home, it is important that we as managers create an environment that is special and pleasant for employees. It's important to treat everybody equally as we are all facing the same challenges, just in our own way. With a transparent and open-door policy in place, we have created a trust relationship with the employees where they feel part of the organisation
Sparks: If you could 'do it all again', would you change anything? If so, what would that be?
RN: Over the years, I have been blessed with an exciting career and I have had wonderful mentors and leaders so, there is nothing that I would change
Sparks: Would you advise a person leaving school to enter the electrical industry? And why?
RN: Electricity and energy will never become obsolete and the human race will always need energy to manufacture, farm, live and survive.  The way we generate and store energy might change but you will always need qualified people to install and maintain electricity. Humans always need more energy, stored in a smaller compact format and at a better price. Electricity will always be the future.
Sparks: What is your advice to electrical contractors and/or electrical engineers?
RN: Educate yourself regarding the specifications of different products on the market. The better you understand the capabilities and limitations of the products, the better service you can provide to your customer.
In many cases, Africa becomes the dumping ground for the rest of the world and we have to understand what products and quality we are dealing with.
Sparks: What is your favourite quote?
RN: "Always treat your employees exactly as you want them to treat your best customers." - Steven R. Covey.
Sparks: Name three things on your 'bucket list' (things you want to do before you 'kick the bucket').
RN: To see the annual wildebeest migration in the Serengeti; ride the Dragon's Spine with friends on our mountain bikes; and to see every corner of this beautiful country.